Could YOU live in a Toyota Tacoma truck?
Tiny homes have become quite the trend over the past few years, but it seems like people are taking the challenge to see just how tiny they can make their living space. One man in particular has risen to the occasion – Andy Cochrane can officially call his 2015 Toyota Tacoma Double Cab home, sweet home. Toyota of Orlando has the scoop and we want to know – could YOU live in a Toyota Tacoma truck?
Could you call the bed of a Toyota Tacoma home?
What made him decide to do it? Basically, Cochrane explained that the rental he was living in was sold, he totalled his car in an unfortunate accident, and he ended up leaving his job and moving back home… but it was liberating for him not to have any specific ties to any one place. This made him consider a nomadic lifestyle but a van or RV wasn't going to cut it for the types of adventures he wanted to seek out.
Enter the 2015 Toyota Tacoma Double Cab. Cochrane threw on all-terrain tires and added a 3-inch lift to it to ensure it was adventure-ready and then began to customize his ride so he could actually live inside of it. Here are some of the modifications he added:
A Leer 180 truck cap to create a "house" in the bed
Reflectix insulation and a small fan to keep things the temp they need to be for comfort
A custom-built drawer that runs the length of the bed and slides in and out – it serves as storage, a bookshelf, a kitchen, and more
4 custom-built cubbies over the wheel wells for additional storage
4 additional interior LED lights for lighting in the bed
A roof rack for storage on top of the truck
Fiberglass side windows in the bed that have the capability to open for circulation of air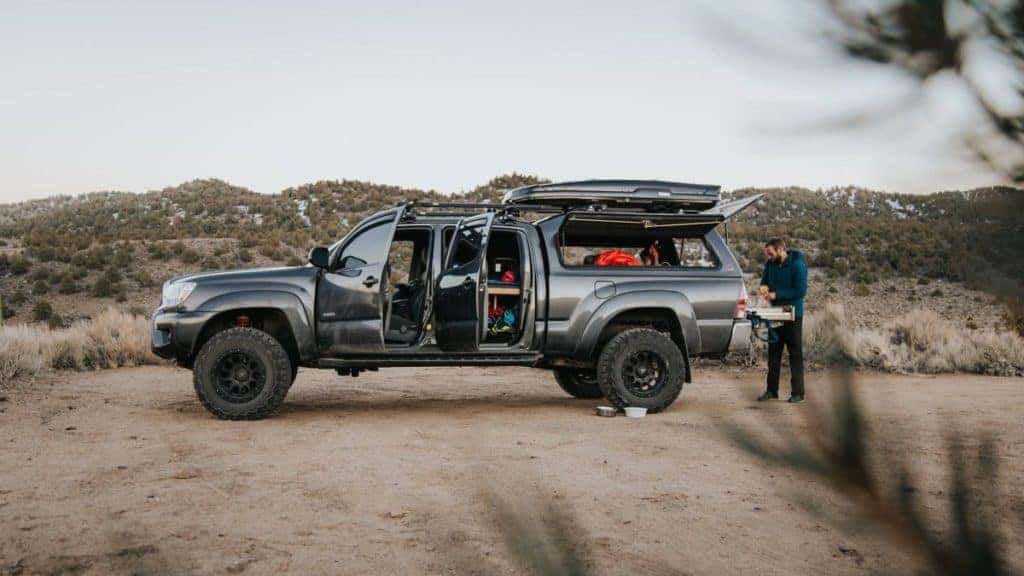 Cochrane also removed the seats in the back of the cab to install a storage cubby for clothing and space for all of his dog's gear, as well as a small refrigerator. The refrigerator is powered by a battery that's also hooked up to three solar panels on the roof, and there's room for a propane tank to power his portable stove. He's also got water stored in the cab and put a foam mattress in the bed of the truck for sleeping so he's comfortable no matter where adventure takes him.
This Orlando Toyota truck is ready for any adventure
Could you do it? The Orlando Toyota Tacoma is a pretty incredible truck and it's ready for anything thanks to features like four-wheel drive, active traction control, rear-wheel drive with automatic limited-slip differential, sport-tuned and off-road suspension options, and Multi-Terrain Select with CRAWL Control. And it comes in Access and Double cabs so you can choose just how big you'd want your living space to be.
Whether you're turning your Orlando Toyota truck into your home away from home or just looking for something that's ready for adventure, we've got the options you need! Come check out ALL of our Toyota Tacoms in stock now at Toyota of Orlando – we're open seven days a week at 3575 Vineland Road, just off I-4 near the Millenia Mall.