5 trade in tips for your used car
Are you thinking about trading in your car? For some people, it's as simple as walking into the dealership and handing over their keys. However, if you want to get the most bang for your buck (whether you're getting cash for your car or rolling the equity into another purchase), then there are some simple steps you should take before you trade in. Toyota of Orlando is here with 5 surefire tips to help you get your money's worth when it's time to turn in your keys.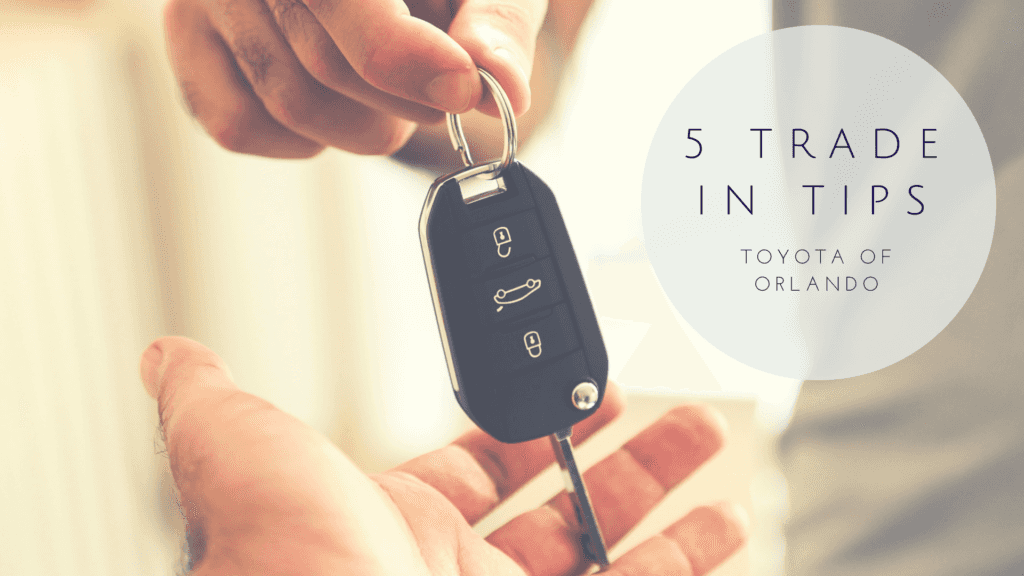 Tip #1: Gather your paperwork.
When you're doing a trade in on a used car, you definitely need the title and your driver's license. However, having other paperwork on hand can also help. Our Orlando Toyota sales specialists recommend keeping auto service records so future buyers can rest assured that your car was well cared for. You should also keep any receipts from parts and accessories added to the vehicle as well as warranties that can be transferred to the new owners.
Tip #2: Have your car detailed.
If you trade in at a dealership, they'll undoubtedly clean your car before they put it back out on the lot. But remember that appearance counts. You should detail your car before you bring it in to be appraised for a trade! Take time to wash the exterior and apply a coat of protective wax (which also helps enhance the shine of the paint). Vacuum and wipe down the interior, being careful to get into all the nooks and crannies. If your seats or floor mats are stained, shampoo them to get them looking like-new again. It also helps to clean the windows (inside and out) and give the tires a shine.
Tip #3: Take care of routine maintenance and small repairs.
Make sure your car is up to date on routine car maintenance like oil changes, tire rotations, and brake service. No one wants to buy a car that's going to need to go into the shop immediately thereafter. Also, think about making small repairs – hammer out dents, replace burnt out fuses and bulbs, fixing a sagging headliner, etc. Major repairs may be more money and time than they're worth, so factor in how much the repair costs and how much it'll knock off the value of the car if you don't get it done. Is it worth having it fixed before you trade in to get more money for your car?
Tip #4: Use an appraisal tool to get an idea of how much your car is worth.
We have a handy appraisal tool on our website where you can find out how much your car is worth – use it so you can get a ballpark idea of the number you're looking for when you visit our Orlando Toyota dealership.
Tip #5: Decide what you want to get for your car.
Do you want to take cash for your car when you trade in, or are you looking to roll that equity into another purchase? Decide before you arrive at the dealership and then shop accordingly.
Ready to trade in and get your money's worth? Call Toyota of Orlando today to schedule an appraisal at (407) 298-0001!