The Toyota RAV4 in Orlando is quite the SUV. It's known for being extremely family-friendly and the perfect ride for those who are the outdoorsy types! 2014 marked the twentieth birthday of this Toyota, which means countless people have trusted this new Toyota SUV with their lives and with their families! This Toyota SUV is so reliable that over ninety percent of all Toyota RAV4 sold in the last ten years are STILL on the road! Also, KBB.com has noted that this new Toyota has incredible resale value, so you can feel comfortable purchasing this ride!

In order for a vehicle to survive in a market filled with tons of options, it has to be remarkable and unforgettable. We think that this iconic Toyota fits these characteristics to a T, so it doesn't surprise us that this forward-thinking vehicle is still around! Let's take a look back at the history of this best-selling Toyota SUV!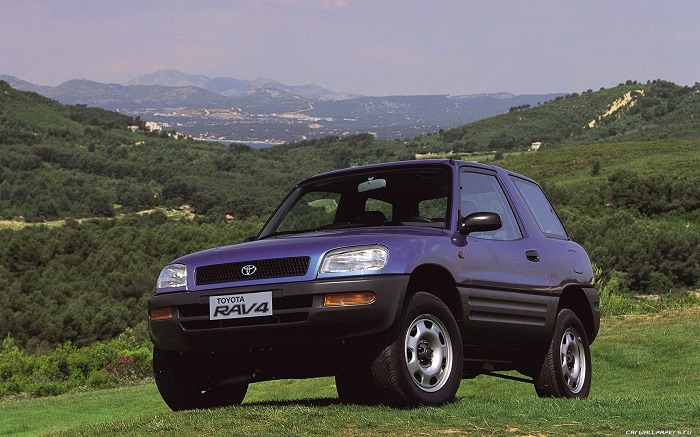 New Toyota RAV4 in Orlando has quite the history


Twenty years out on the market is a huge deal nowadays. With the fierce competition vying for consumers' attention, it may be difficult to stand out. However, that's not the case for this new Toyota in Orlando! Let's take a look back at its history to find out why this crossover is still dominating the competition!


The Toyota RAV4 in Orlando has been around since 1994 when it debuted in Japan and in Europe. It wasn't until 1996 that it was introduced in North America, showing us that it is possible to get a vehicle that has the qualities of an SUV while still maintaining the fuel-efficiency of a smaller vehicle!

The dynamic Orlando Toyota RAV4 was originally based off the frame of the Toyota Corolla, the engine came from the Toyota Camry and the suspension and transmission technologies were borrowed from the Toyota Celica GT-Four.

In 1998, the Toyota RAV4 was given a slight makeover, with its front and rear fascias being changed. A soft-top option was made available to the American market, as well!

The second generation of the Toyota RAV4 was made to be a bit larger than the original model, filled with pioneering features like removable second-row seats (showing off its SUV-like nature)! The engine was also changed to a 2.4L 4-cylinder engine, which gave drivers 160 hp behind the wheel. 

The third generation of the Orlando Toyota RAV4 (which was manufactured from 2006-2012) was even more ground-breaking than the previous models due to its size! It was made to be larger and drivers were able to choose a V6 engine and a third-row for their SUV! Â It came in three different trim levels, providing drivers with even more options than ever before! You could add features like a moonroof, leather seats, and a DVD rear-seat entertainment system to your Toyota, as well!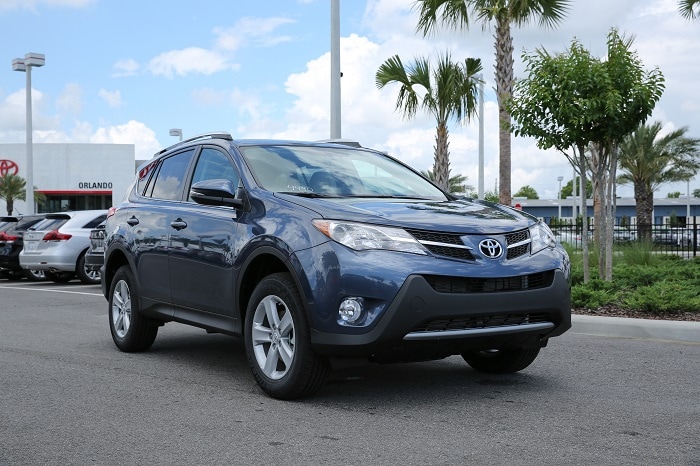 New Toyota RAV4 in Orlando is the perfect SUV


This new Toyota in Orlando received quite the makeover in 2013, making it the fourth generation of this SUV. The makeover gave it the ultra-sporty façade it currently rocks! It now has a look of sophistication without being over the top and we absolutely love that about this SUV. Depending on the trim level you choose, you'll be able to deck out your Orlando Toyota SUV with 18-inch alloy wheels, durable and plush SofTex seats, an adjustable power liftgate, and the option to add blind spot monitors!

In addition to offering stellar features, this ride will give you superior fuel economy-giving you 24 mpg in the city and 32 on the highway!

Come down to our Toyota dealership in Orlando to check out this jaw-dropping SUV with your own eyes! We're located at 3575 Vineland Road and can be reached at (888) 725-3520. We're open 7 days a week so any day is a good day for a test drive!