Choosing a new ride isn't an easy task. We understand that there are many Orlando Toyota to choose from and we also acknowledge that there are ton of different makes and models available to consumers. Here at our Toyota dealership, we want you to be confident with your choice when it comes to your new vehicle! If you're looking to get an ultra-sleek ride that happens to be incredibly family-friendly, we suggest you look into the 2015 Toyota Highlander in Orlando!

We recognize that Toyota has major competitors, which is why we're comparing the Orlando Toyota Highlander to the 2015 Ford Explorer. While these two SUVs may share a ton of features, they're not the same. Let's take a look at why the Toyota Highlander comes out on top in this battle of the SUVs!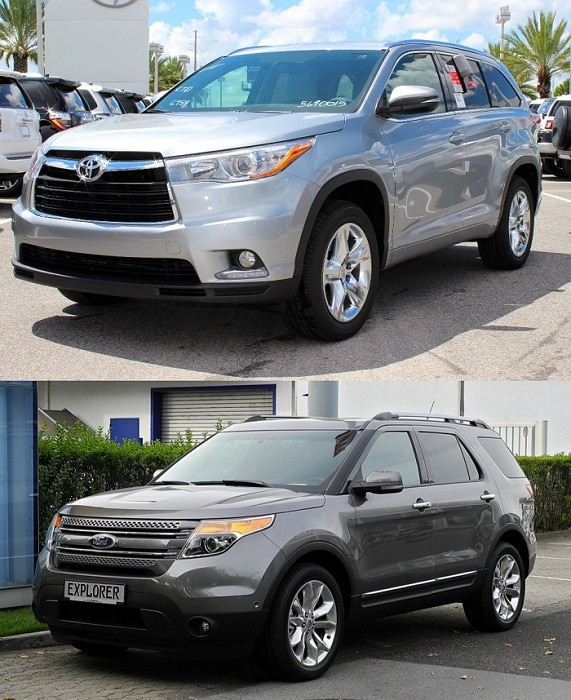 Orlando Toyota Highlander takes out the 2015 Ford Explorer


If you're already looking at these two options, chances are that you need to cater to a family. While both of these popular SUVs are perfect for families, this new Toyota distinguishes itself from the Ford SUV in more ways than one. Let's see how the Orlando Toyota Highlander overtakes its Ford competitor.

Price 

When you're purchasing a new Toyota in Orlando for your family, you want to be kind to your pocket!  The 2015 Toyota Highlander in Orlando wins this round, as its starting MSRP is $29,415. If you want to get into the Ford competitor, you'll have to shell out more money, since its MSRP is $30,700! That's more than $1,000 in difference! You might not think that's a big deal, but that's quite the chunk of change. 

Fuel economy

When it comes to saving money at the pump, you'll be able to save your pennies with this new Toyota SUV in Orlando. The Toyota SUV gets 20 mpg in the city and 25 mpg on the highway. You can get 27 mpg in the city and 28 mpg on the highway if you choose the Toyota Highlander Hybrid! The Ford Explorer only gets 17 mpg in the city and 24 mpg on the highway and doesn't offer a hybrid option. 

Comfort

When you get into the new Toyota Highlander in Orlando, you'll quickly realize how family-friendly it is! For starters, this Toyota SUV has enough seating for up to eight passengers, while the Ford competitor falls short with enough seating for up to seven passengers. When you go on those long family road trips, you'll want a vehicle like the Toyota Highlander on your side!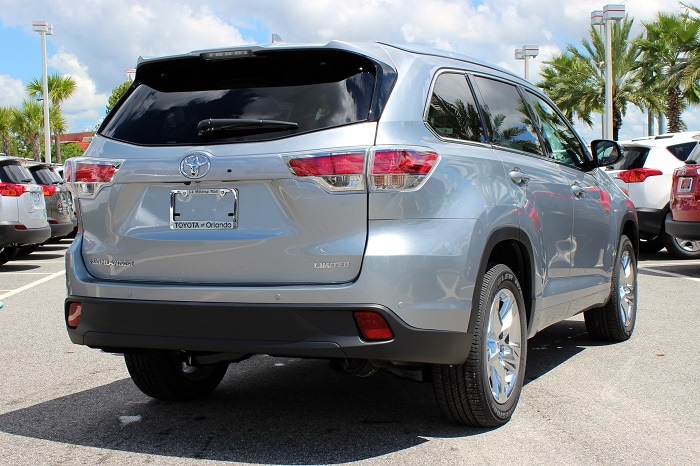 The Toyota Highlander zooms past the Ford Explorer

You don't have to sacrifice style and technology in order to get a safe ride for your family! No one wants to get behind the wheel of a boring ride. Luckily, the 2015 Toyota Highlander in Orlando is anything but boring!

Standard Features

You would think that the Ford Explorer would have more standard features than the Orlando Toyota Highlander (since its MSRP is a bit higher). However, this new Toyota SUV packs a ton of standard features that are not included in the Ford SUV. Let's take a look at some of the standard features this Toyota SUV has to offer:


Bluetooth Wireless Connectivity: This is perfect for those who want to stay connected at every turn without sacrificing safety! When you use this piece of technology in this new Toyota SUV in Orlando, you'll be able to stream your favorite music and phone calls through the sound system with relative ease. In order to enjoy this connectivity in the Ford SUV, you'll have to shell out extra bucks! Â 
Toyota Entune Audio System: This car audio system is exclusive to the Toyota brand, meaning you won't find it in the Ford Explorer! With this audio system, you'll be able to get access to your favorite apps (i.e. Pandora, iHeartRadio, OpenTable, etc.)! 
Backup camera: You can add this feature to the Ford Explorer (for additional money), but you can get this feature automatically when you choose this Toyota SUV. Staying safe at every turn has never been easier! 

Come check out the Toyota Highlander at Toyota of Orlando today! We're located at 3575 Vineland Road, across from the Millenia Mall. We can be reached at 888-725-3520 if you have any questions!