It's the moment we've been eagerly awaiting for the last year at our Orlando Toyota dealership - the arrival of the 2014 Toyota Corolla! This new Toyota favorite was completely redesigned for the 2014 model year, and its new look and outstanding upgrades are taking the automotive industry by storm. It's packing major technology, exceptionally improved performance, and a new appearance that's more sophisticated than ever. We've got the full scoop on the 2014 Toyota Corolla in Orlando, but now you can come down and take a look at it in person!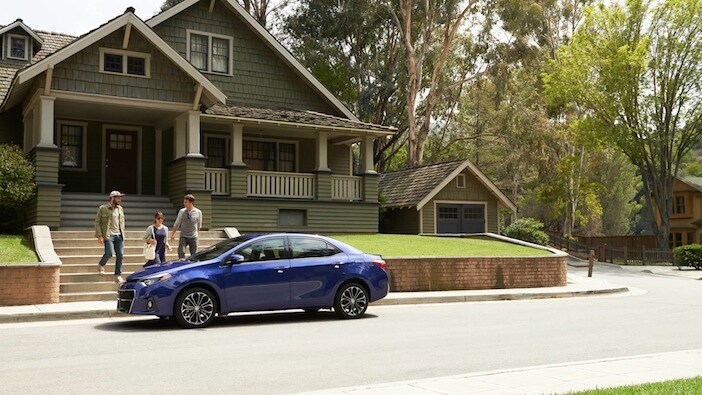 What's new on the 2014 Toyota Corolla?

Alright, so what's new on the 2014 Toyota Corolla in Orlando? First of all, a new trim-level. You can now take home four different models, including the:



The LE Eco is the new and improved version when it comes to fuel efficiency, but we'll get to that soon enough. Moreover, this new Toyota in Orlando is still ultra-affordable - you can make it yours with a starting MSRP of just under $17,000! 

Additionally, the LE, LE Eco, and S all feature CVT - continuously variable transmission. This all-new technology has never been used on a vehicle in the US before, and it enhances fuel efficiency a great deal! You can choose between Plus and Premium levels on the three trim levels mentioned! 



2014 Toyota Corolla in Orlando boasts all-new trim level! 

In order to make it easier, we've broken up the 2014 model of this extremely anticipated car by trim-level so you can take a closer, more detailed look at exactly what's in store for you when you get behind the wheel!


2014 Toyota Corolla L
This may be the base model of the fan favorite, but it's anything but basic. Check out features like:Â 


Tech audio, which integrates 4 speakers, AM/FM/CD player, iPod connectivity (including an iPod interface) and Bluetooth

Instrumentation that puts all the info you need at your fingertips, including tire pressure, ECO indicator, fuel efficiency, and more

Power door locks and windows

LED low-beam headlights and daytime running lights

Improved fuel efficiency... you'll now get 28 mpg in the city and 37 mpg on the highway

Plus, and incredible new look that's found on ALL new Toyota Corolla in Orlando. The redesign left this sporty compact car sleeker than ever - some are even comparing it to its sibling, the 2014 Toyota Camry!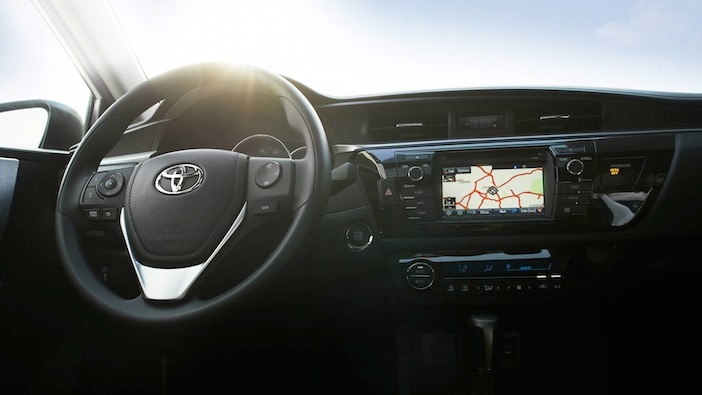 2014 Toyota Corolla LE
This particular trim-level of the 2014 Toyota Corolla in Orlando is considered to be the luxury edition, and it delivers without fail. You'll love features like:


Automatic climate control with a dust and pollen filter 

Entune Audio, which includes the Entune Multimedia System (a bundle of extremely useful apps), a touchscreen interface, Bluetooth, USB 2.0 and iPod connectivity, and more

An integrated backup camera

Cruise control and remote keyless entry

A steering wheel that's capped with Bluetooth hands-free phone and audio controls

A cool metallic interior trim

Improved fuel efficiency - you'll love the 29 mpg in the city and 38 mpg on the highway!


2014 Toyota Corolla S
If you want something sporty, affordable, and teched out, then this is the new Toyota in Orlando for you! You'll find elements like:


The aforementioned Entune Audio System with an integrated backup camera

A fabric and SofTex trimmed interior with special sport fabric

A leather-trimmed steering wheel with audio and Bluetooth controls, as well as paddle shifters on the automatic model to keep things exciting

Sport instrumentation

An exterior decked out with fog lights, chrome accents, a rear deck spoiler, and 17" alloy wheels


2014 Toyota Corolla LE Eco
This is the trim level of the 2014 Toyota Corolla that we're most excited about - it's brand new for the 2014 model year! You'll find standard features like:


Entune Audio, with the option to up the ante and integrate Premium Audio with Navigation 

An integrated backup camera

Cruise control and a remote keyless entry system, in addition to a tilt/telescopic steering wheel with Bluetooth and audio controls

A sporty rear deck spoiler

However, where this trim-level of the 2014 Toyota Corolla in Orlando REALLY stands out is its fuel efficiency. It boasts 30 mpg in the city, 42 (!!) mpg on the highway, and 35 mpg combined! 

As you can see, this new Toyota in Orlando has quite a bit to offer you as a driver! Why not come and explore all of the amazing upgrades and add-ons yourself? Toyota of Orlando is conveniently located just off I-4 near the Millenia Mall - stop by and take this new Toyota for a test drive today!